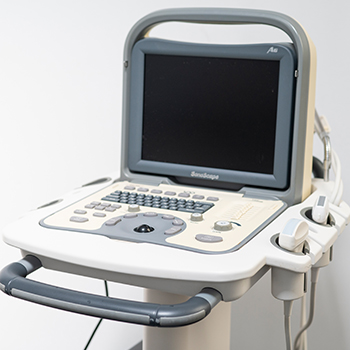 Functionele Echografie
Functionele echografie binnen de bekkenfysiotherapie
Echografie geeft de mogelijkheid om 'real time' de ligging en werking van structuren in beeld te brengen. Dit geldt ook voor inwendig gelegen structuren zoals de bekkenbodemspieren. Echografie kan dus helpen om een beeld te vormen van de samenhang van de structuren (structurele echografie) of het functioneren van (dieper gelegen) structuren (functionele echografie).  
Binnen de bekkenfysiotherapie wordt echografie vooral therapeutisch toegepast als feedback voor de patiënt en kan op deze manier worden ingezet ter ondersteuning bij het bepalen van de bekkenfysiotherapeutische diagnose.
Een bekkenfysiotherapeut diagnosticeert geen pathologie of zwangerschap; dit is voorbehouden aan medisch specialisten en verloskundigen.
Hoe wordt het onderzoek uitgevoerd?
Functionele echografie kan door de bekkenfysiotherapeut worden toegepast:
• via de buik (abdominaal)
• via de bekkenbodem (buitenkant vagina of perineum)
Er wordt bij het echografisch onderzoek door de bekkenfysiotherapeut dus niet inwendig gehandeld (geen meting via vagina of anus).
Wat kan er worden beoordeeld?
• (samen)werking van de verschillende buikspieren
• ruimte tussen de rechte buikspieren en veranderingen tijdens aanspannen
• beweging van de bekkenbodemspieren
• meting van de inhoud van de blaas en mate van lediging (voor en na het plassen)
Tijdens het echografisch onderzoek worden de bevindingen met u besproken. Als uit het consult blijkt dat er uitgebreider onderzoek of behandeling noodzakelijk is, zult u hierover advies krijgen.
Kosten van Echografie
Er is geen apart tarief voor de functionele echografie. Indien u voldoende  aanvullend verzekerd bent voor fysiotherapie, worden deze kosten gedeclareerd bij de zorgverzekeraar. Indien u geen aanvullende verzekering heeft of uw jaarlijks declaratiebudget reeds verbruikt is dan krijgt u de rekening thuis en dient deze door uzelf te worden voldaan.