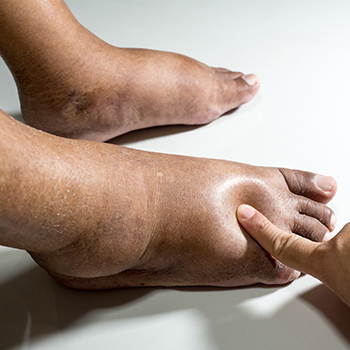 CRPS TYPE 1
Fysiotherapie bij CRPS 1
In de eerste fase van de aandoening is met name fysiotherapie geïndiceerd. Ook ergotherapie is aan te bevelen. De paramedische behandeling vindt, zeker in de vroege fase van de aandoening, plaats vanuit het 'with pain no gain' principe: de behandeling behoort geen pijnvermeerdering te geven of de pijn dient op korte termijn (één à twee uur na behandeling) naar het oude niveau terug te keren. In een late fase kàn ervoor gekozen worden een ander criterium dan de pijn als leidraad te nemen.

Fysiotherapie
De centrale doelstelling van de behandeling is de patiënt zoveel mogelijk controle te laten krijgen over zijn klachten. De belangrijkste behandeldoelen zijn:
Het verhogen van de controle over de pijn en het optimaliseren van het omgaan met de klacht, bijvoorbeeld door het informeren en begeleiden van de patiënt (gericht gesprek, het bijhouden en bespreken van een dagactiviteitenschema) of ontspanningsoefeningen.

Het uitdoven van de bron van pijn en het behandelen van een eventuele disregulatie, bijvoorbeeld door TENS-behandeling, bindweefselmassage, oefentherapie ter pijndemping, desensibilisatie of het gebruik van een draagdoek of spalk.

Het verbeteren van vaardigheden, bijvoorbeeld door oefenen van compensatoire vaardigheden, trainen van vaardigheden en houdings- en bewegingsinstructie. De hulpvraag (en interesse) van de patiënt bepalen in latere fases de keuze van de oefenstof.
Aan het verbeteren van de beweeglijkheid kan worden gewerkt zodra de pijn onder controle is. Het accent ligt hierbij met name op het actief en functioneel bewegen. Het behoud van een zo normaal mogelijk houdings- en bewegingspatroon, evenals het voorkomen van veranderingen in aangrenzende gewrichten en spieren (bijvoorbeeld door verkortingen) zijn onderwerpen die gedurende de gehele behandeling aandacht vragen.